Scullion
Something very special happened in The Sugar Club on Mar 31st 2017. Scullion played to a packed house, the room was filled with audience anticipation, a full house and a band ready to herald their plans to return to the live circuit.

The band will hit various spots all over the country, on the unbeaten tracks as well as the well-beaten ones. Scullion and their members plan to engage and invite the many artists and music lovers they have encountered along the way for some shows with old songs and new as well as sharing the stage with old friends and new.

This band itself has been on a musical expedition since its inception…

"We have played in back rooms, front rooms, bar rooms and bedrooms, flat bed trucks, concert halls The Albert Hall and everywhere else in between," says Philip King

"The urge to sit and play in some of these rooms especially in the Ireland is powerful. The exchange that happens when engaging live with an audience is more alluring and vital than ever in this age of virtual connection. We have an amazingly diverse musical language on this creative island and many of those strands are woven into Scullion's musical DNA"

Sonny Condell the creative core and inspiration for the band continues to invent and innovate. He writes music and songs that are powerful, poetic, soulful and joyful. He is one of Ireland's most enduring creative artists and with Robbie Overson and Philip King creates the signature sound that is Scullion.

Scullion's back pages include the anthems, 'Down In the City', 'Eyelids into Snow' and 'John the Baptist'. Recent Scullion performances have sold out in a heartbeat, reconfirming their status as one of the best bands ever.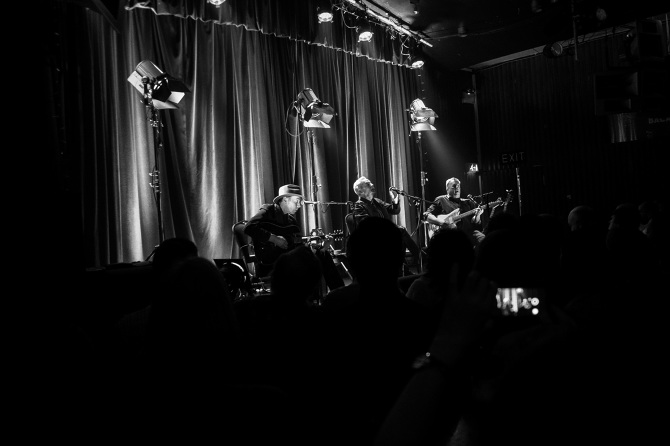 Scullion grew from a chance meeting in the late seventies, of its two main founders, Philip King and Sonny Condell. As a band they started rehearsing and writing in a small apartment above a chip shop in Dún Laoghaire, County Dublin, which eventually followed with regular appearances at various Dublin haunts including the Meeting Place in Dorset St. Dublin…and on out into the world.
The band's founding members, Sonny Condell and Philip King, have not so much floated as careened below the radar for over three decades now, surfacing with some of the sharpest and most original songs written this side of the Brill Building. Quite why they never made their millions on the back of such perfect pop as 'Oh Carol', or at the very least discharged a pair of sizeable mortgages on the back of 'Eyelids Into Snow', remains one of the enduring mysteries of the music world, but such quotidian distractions are not the stuff of which founding member and aesthete, Sonny Condell, is made.

Under The Moon (2015)
Long Wave (2012)
Eyelids Into Snow - A Collection (2001)
Ghosts and Heroes (1992)
Spin (1985)
White Side of Night (1983)
Balance and Control (1980)
Scullion (1979)

Quote from Sonny Condell

"The band never stopped, we just have some periods of intense rest! Philip is a successful film-maker and broadcaster and produces Other Voices and I have my own band and recording career, Robbie plays the music the world over, so we come together when the time is right for us."